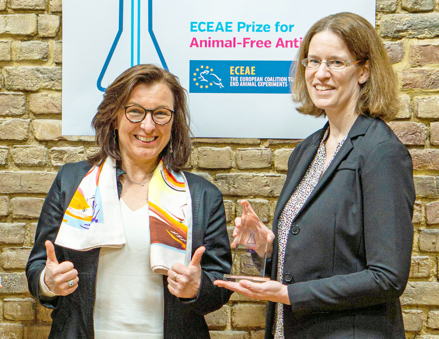 News

ECEAE Prize for Abcalis
Abcalis® has been awarded with the ECEAE Prize for animal-free antibodies. Our co-founder Dr. Esther Wenzel represented us at the official prize ceremony in Brussels.
Antibodies are reagents used very widely in therapy and research, and serve as detection reagents in countless diagnostic tests. In contrast to conventional antibodies, Abcalis® antibodies are not produced in animals, but are produced entirely in-vitro by means of biotechnological processes such as phage display.
As a result they offer many advantages for users over blood products derived from animals: they are always precisely molecularly defined and can be produced in unlimited quantities. With these properties, we ultimately also want to improve the reliability of medical tests on the market – Dr. Esther Wenzel
The award was handed over by Dr. Corina Gericke from the ECEAE Board of Directors.
Read the German statement by TU Braunschweig about the prize ceremony in brussels